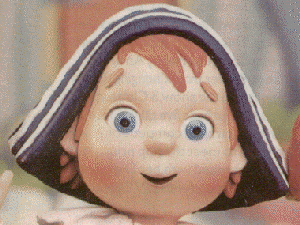 This television series featured a little puppet boy in a striped romper suit. His friends, a teddy bear called Teddy and a pretty ragdoll called Looby Loo. These three jolly characters would dance and play games in and around their nursery and garden, and they'd encourage younger viewers to participate at home. At the end of each broadcast they would sing their goodbyes to us And that was it. Nothing more substantial, but at the time, it worked splendidly. Of course, today's viewers loook upon these shows as being patronising. They question the "relationship" between the three stars in between knowing winks and nudges and it's all terribly tedious. The point is all of the shows in these children's broadcast slots were absolutely right for the period. To ridicule them is ludicrous, the puppetry is far better than on a lot of modern productions. The BBC was seen as being "Auntie" to the nation, and here was the perfect way to entertain and educate younger viewers the length and breadth of the country. "Andy Pandy" was created by Frieda Lingstrom and Maria Bird at the behest of the BBC. They formed Westerham Arts Ltd, named after the village where they lived, in Kent. It was also home to the craftman who originally scuplted their Andy Pandy puppet. The bodies for the puppets were carved Jane Tyson-Eve from a design by John Wright, of the Little Angel puppet theatre. There were a number of puppets made, with many spare heads. They now reside in the collection of The Museum of London and can be seen by appointment.
Andy Pandy first came to play on July 11th 1950, manipulated by Audrey Atterbury and Molly Gibson. 26 black and white films weremade and broadcast repeatedly on the BBC, mainly as part of the the channel's "Watch With Mother" children's slot, but it's a popular misconception that Andy and friends were created specifically for that strand when, in actuality,they came to life earlier. Such was the wear and tear on the original films, that the BBC were eventually forced to approach Westerham for new productions, and in 1970 13 new colour episodes started. Andy spawned a licensing gold rush, with a myriad of books, toys and collectables available for fans. He was also the cover star of "Robin" comic. Even in to the 1980's, retailers like Boots were still selling tie-in merchandise, such as books etc.
Ad blocker interference detected!
Wikia is a free-to-use site that makes money from advertising. We have a modified experience for viewers using ad blockers

Wikia is not accessible if you've made further modifications. Remove the custom ad blocker rule(s) and the page will load as expected.