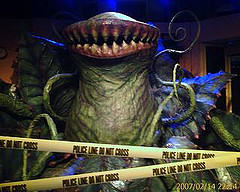 Audrey 2
Audrey II is a carnivorous plant found in the show called Little Shop of Horrors. The plant goes through different stages, first an easy puppet to use to the last stage where it is enormous and eats humans alive.
The plant is named after another character in the show, Audrey or Audrey 1. In the 1960 film, on which the show was based on Audrey 2 was known as Audrey, Jr. instead of Audrey II. The plants shape changed in 2006 in London when originally the plant was a flytrap, but in the London production became a more tropical shape, picture above.
Ad blocker interference detected!
Wikia is a free-to-use site that makes money from advertising. We have a modified experience for viewers using ad blockers

Wikia is not accessible if you've made further modifications. Remove the custom ad blocker rule(s) and the page will load as expected.