[[Image: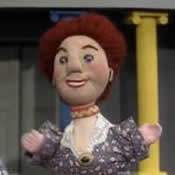 |center|280px]]
Betty Okonak Templeton Jones is a former schoolmate of Lady Elaine Fairchilde who now and then comes to visit in Make-Believe from nearby Southwood. She's a non-stop talker and always has something to say. Because she understands Lady Elaine so well, she is sometimes called on to help Lady Elaine out of a jam. She and her husband James Michael Jones have an adopted daughter, Carrie Dell Okonak Templeton Jones.
Ad blocker interference detected!
Wikia is a free-to-use site that makes money from advertising. We have a modified experience for viewers using ad blockers

Wikia is not accessible if you've made further modifications. Remove the custom ad blocker rule(s) and the page will load as expected.