Billy Bean and His Funny Machine was a UK children's TV series which was broadcast by the BBC in 1954. It featured a puppet called Billy Bean who operated a large fantastic machine that could produce anything he drew on the "cartoonorator". Many mistakes were made with humorous results. Peter Hawkins who went on to make a career in children's puppet TV was the voice of Billy Bean.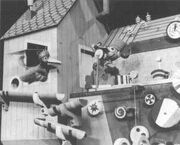 Ad blocker interference detected!
Wikia is a free-to-use site that makes money from advertising. We have a modified experience for viewers using ad blockers

Wikia is not accessible if you've made further modifications. Remove the custom ad blocker rule(s) and the page will load as expected.