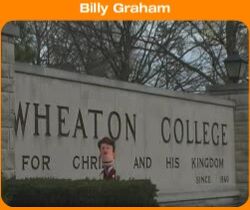 Billy Graham
was the fifth in
The Jelly News
web series by
Phil Vischer
. In this episode from November 28, 2005, news anchor
Buck Denver
fills a slow news day with a special report on "another one of Wheaton's favorite sons, the Reverend Billy Graham. Though we put this report together hastily we're 90% sure our facts are straight. (Pause.) 85."
This is the first Jelly News episode to be shot mostly on location instead of in the studio.
External links
Ad blocker interference detected!
Wikia is a free-to-use site that makes money from advertising. We have a modified experience for viewers using ad blockers

Wikia is not accessible if you've made further modifications. Remove the custom ad blocker rule(s) and the page will load as expected.