[[Image: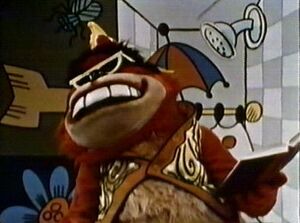 |center|280px]]
Bingo is a orange full-bodied gorilla puppet character from the show The Banana Splits Adventure Hour. He was performed by Terrence Henry and voiced by Daws Butler. Bingo usually serves as a second banana while Fleegle takes the role as leader. Bingo seemed to be the most cheerful and outgoing of the Splits.
Bingo would assist Drooper by reading the mailed questions in the Dear Droooper segments, as well as play victim to Fleegle's robot Mildred. (For example: If Bingo asked Mildred to make him a TV star, Mildred would turn him into Yogi bear!)
One of the recurring segments on the show was Coach Bingo, Bingo would keep Drooper, Fleegle and Snorky active in sports competitions.
Each of the Banana Splits occasionally were shown playing instruments, Bingo played the cymbal and also was shown playing the drums.
Appearances
Ad blocker interference detected!
Wikia is a free-to-use site that makes money from advertising. We have a modified experience for viewers using ad blockers

Wikia is not accessible if you've made further modifications. Remove the custom ad blocker rule(s) and the page will load as expected.