[[Image: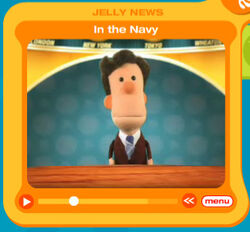 |center|280px]]
Buck Denver is the puppet host of The Jelly News and is performed by puppeteer, Phil Vischer. Buck began his news career behind a weather desk in Davenport, Iowa,[1] and has been reporting from Jellyfish Labs in Wheaton, IL since October 28, 2005.
Buck thrives on being in control, but rarely can manage to get his guests in line. Sometimes his "experts" go off on singing tangents and neglect the point of the news story; Sometimes the guests that he interviews won't even speak. He likes to think of himself as unflappable, but frequently shows his frustration in mumbles during the closing jingle of many episodes.
The puppet was designed and built by builder, Barry Gordemer, of Handemonium puppets.
References
External links
Ad blocker interference detected!
Wikia is a free-to-use site that makes money from advertising. We have a modified experience for viewers using ad blockers

Wikia is not accessible if you've made further modifications. Remove the custom ad blocker rule(s) and the page will load as expected.