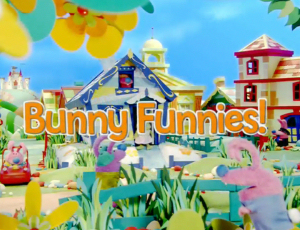 Bunny Funnies is the second episode of Bunnytown.
Highlights
Red and Fred wash their car and themselves
A Bunny paints a picture of an apple but first a worm uses it as a rocket. Next a women appears to have it stuck on her hat, she dances. Basketball players use it as a basketball and shoot it. The bunny finishes his apple picture but with everybody who came.
Super Bunny defeats Little Bad Bunny
Ad blocker interference detected!
Wikia is a free-to-use site that makes money from advertising. We have a modified experience for viewers using ad blockers

Wikia is not accessible if you've made further modifications. Remove the custom ad blocker rule(s) and the page will load as expected.