[[Image: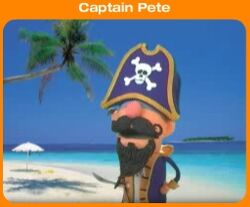 |center|280px]]
Captain Pete is a recurring character on The Jelly News and is performed by puppeteer, Phil Vischer. Pete's debut on the popular web series took place on November 21, 2005, and has since returned many times as co-anchor or expert. Pete usually sings strange songs and frequently guides the news stories off-topic.
The puppet was built by Barry Gordemer, of Handemonium puppets.
External links
Ad blocker interference detected!
Wikia is a free-to-use site that makes money from advertising. We have a modified experience for viewers using ad blockers

Wikia is not accessible if you've made further modifications. Remove the custom ad blocker rule(s) and the page will load as expected.