Information
Image
Puppeteer
Voice
Gregory Harrison (Season 1)/Kevin Carlson (Season 2 onward)
Species
Robot
Gender
male
Debut
Pee-Wee's Playhouse
Debut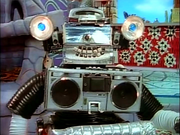 Conky 2000 or just Conky is a robot character featured on Pee-Wee's Playhouse. He was made from various electronic parts. Conky's main job on the show was giving Pee-Wee, the "secret word" of the day.
In 2010, the character of Conky was renamed Conky 3000.