[[Image: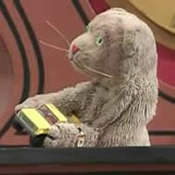 |center|280px]]
Daniel Striped Tiger lives in the clock. He is gentle and child-like, a favorite of many. He is very shy, but with tender affection and support from his good friends in Make-Believe, he finds that he is indeed brave and didn't know it. His favorite greeting with Lady Aberlin is to rub noses and say "ugga-mugga."
Ad blocker interference detected!
Wikia is a free-to-use site that makes money from advertising. We have a modified experience for viewers using ad blockers

Wikia is not accessible if you've made further modifications. Remove the custom ad blocker rule(s) and the page will load as expected.