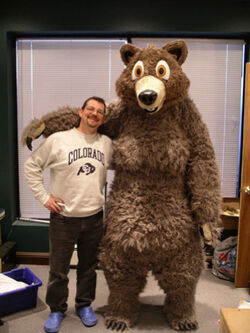 Dave Privett is a master puppeteer, puppet designer and builder, writer, and award-winning set designer whose recent projects have included the Baby Einstein video series and the Fixin' 2 Rain musical in Pigeon Forge, TN. Dave's company, PlaySoup, is based in Parker, Colorado.
Dave began performing at the age of seven, but he has been performing professionally since his college years. He has received two regional Emmys for production and set design in children's programming. Dave also wrote a production about emotional abuse for the Tennessee Committee For the Prevention of Child Abuse called Believe In Yourself.
External links
Ad blocker interference detected!
Wikia is a free-to-use site that makes money from advertising. We have a modified experience for viewers using ad blockers

Wikia is not accessible if you've made further modifications. Remove the custom ad blocker rule(s) and the page will load as expected.