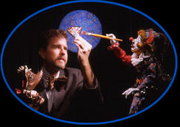 David Simpich
is an award-winning puppeteer based in Colorado Springs Colorado. He has been designing, building, writing, and performing marionettes since 1984. David has written and produced sixteen original plays with nearly two hundred original hand-sculpted actors.
History
During David's childhood years, his parents Bob and Jan Simpich operated a doll studio out of the basement of the family home. He observed as they sculpted doll heads, hand-painted faces, and sewed the clothing of these Simpich Character Dolls of Colorado Springs. Although David was surrounded by this artistry, it wasn't until he happened upon a handmade marionette hanging in a bookstore window that he, "sensed for the first time the dramatic potential of a simple figure on strings."

David and his wife Debby immediately began studying, creating and performing their first production after this store window inspiration. They performed in schools for about two years before opening the Simpich Marionette Theatre as an extension of the Simpich Character Dolls business in Colorado Springs. David went on to develop solo performances and eventually the now-growing family took the shows on tour. As of 2007, David and family performs at home at the Mount Saint Francis Auditorium and tours regularly with the Simpich Marionettes.
Awards
David has received four Citations of Excellence from UNIMA-USA plus The President's Award from the Puppeteers of America.
1994 UNIMA-USA Citation of Excellence for Great Expectations
1995 - 96 UNIMA-USA Citation of Excellence for Hans Christian Andersen Storybook
1997 The President's Award of The Puppeteers of America
1997 - 98 UNIMA-USA Citation of Excellence for A Christmas Carol
2002 - 03 UNIMA-USA Citation of Excellence for The Secret Garden
Productions
Beauty and the Beast - 1984
Heidi - 1986
The Little Mermaid - 1987
A Christmas Carol - 1987, 1992
Aesop - 1988
Tom Sawyer - 1989
Great Expectations - 1990
Hansel and Gretel - 1993
Hans Christian Andersen Storybook - 1994
Oliver Twist - 1996
The Pilgrim's Progress -1998
The Puppet Maker: A Story of Christmas - 1999
Portraits: A Gallery on Strings - 2000
The Stained Glass Circus - 2001
The Secret Garden - 2002
The Firebird - 2004
External links
Ad blocker interference detected!
Wikia is a free-to-use site that makes money from advertising. We have a modified experience for viewers using ad blockers

Wikia is not accessible if you've made further modifications. Remove the custom ad blocker rule(s) and the page will load as expected.