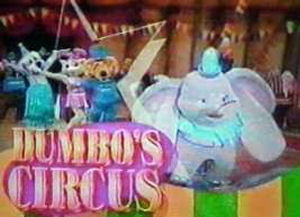 Dumbo's Circus was a live-action/puppet television series on The Disney Channel, featuring the character of Dumbo from the original film. 120 episodes (the most ever for a Disney TV show) were made in 1985, and they were shown until 1995. In the show, Dumbo has grown up, is able to speak, and had struck out on his own to begin his own circus. He and a cast of characters fly from town to town in a wagon pulled through the air by Dumbo performing their "greatest little show on earth".
Other than Dumbo, none of the characters from the original film are cast members. The cast members are human-sized anthropomorphic animals played by people in puppet suits using technology developed by The Jim Henson Company for Fraggle Rock; this production technique was also used for the Disney Channel live-action/puppet television series Welcome to Pooh Corner.
Ad blocker interference detected!
Wikia is a free-to-use site that makes money from advertising. We have a modified experience for viewers using ad blockers

Wikia is not accessible if you've made further modifications. Remove the custom ad blocker rule(s) and the page will load as expected.