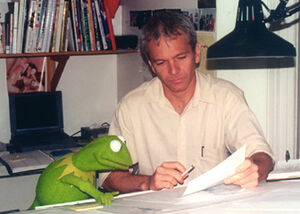 Ed Eyth has had an extensive and diverse artistic career. He has a Bachelor of Science degree from Art Center College of Design in Los Angeles and prior to that majored in Visual Communication at the Art Institute of Pittsburgh. He has served as a production designer, a set and costume designer and a puppet designer for a variety of film and television productions. His film credits include Hook, The Rocketeer and Captain EO.
For nearly 10 years Eyth was Director of Creative Services for the Jim Henson Company. While at Henson, he designed characters for shows like Muppets Tonight, Mopatop's Shop and Animal Jam, as well as the video feature Kermit's Swamp Years.
Ad blocker interference detected!
Wikia is a free-to-use site that makes money from advertising. We have a modified experience for viewers using ad blockers

Wikia is not accessible if you've made further modifications. Remove the custom ad blocker rule(s) and the page will load as expected.