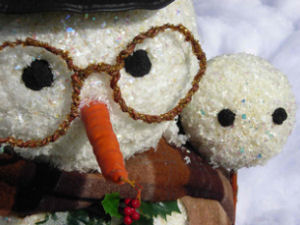 Starting on December 14, 2006, Frosty the Snowman and his snowball friend Steve counted down to Christmas with Frosty's 12 Days of Christmas Podcast. Over the course of the 12 episodes, Frosty talked with woodland creatures, and all of Santa's reindeer.
Frosty the snowman was designed by Patrick Johnson and built by Sean Johnson. Frosty's 12 Days of Christmas Podcast was written by Dylan Campbell, Sean Johnson and Patrick Johnson, and directed by Dylan Campbell. Sean Johnson performed Frosty and Patrick Johnson performed Steve. Frosty's guests were performed by Patrick Johnson, Victoria Johnson, and Kevin Carlson.
Episodes
Guests
Dasher
Dancer
Prancer
Vixen
Comet
Cupid
Doner
Blitzen
Rudolph
Norman
Dirk
Suni Buni
External Links
Ad blocker interference detected!
Wikia is a free-to-use site that makes money from advertising. We have a modified experience for viewers using ad blockers

Wikia is not accessible if you've made further modifications. Remove the custom ad blocker rule(s) and the page will load as expected.