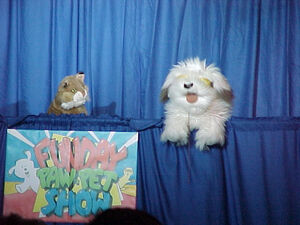 The Funday PawPet Show originated in November of 1999; Yappy and friends were working on their puppetry at his home when they came up with the idea of streaming a puppet show on the Internet. Various changes have come and gone — in equipment, location, and performers alike — but the show continues to this day, with some gaps and re-runs. The show's 300th episode aired 30 July 2006. The FPS crew also perform live shows at various furry conventions around the country, most notably at Megaplex.
See also
Ad blocker interference detected!
Wikia is a free-to-use site that makes money from advertising. We have a modified experience for viewers using ad blockers

Wikia is not accessible if you've made further modifications. Remove the custom ad blocker rule(s) and the page will load as expected.