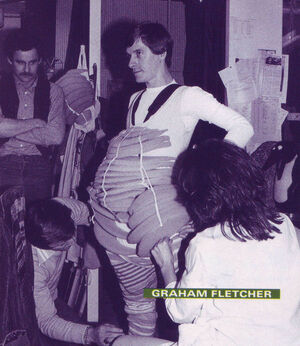 Graham Fletcher is a puppet builder that worked with the Muppets. Fletcher is also a former dancer with the Royal Ballet (at the Royal Opera House) who often performed full-bodied dance characters on The Muppet Show. At 6 feet tall, he was well-suited to such parts, and lent a dancer's sensibility and grace to his roles. His most notable character, Fletcher Bird, was named after him and appeared periodically in seasons 3 and 4. He also performed special dance characters, such as the Giant Spider from Welch episode 311 and the Ballerina Pig in the "Swine Lake" sketch from episode 213.
Outside of the Muppets, his other costumed roles included multiple characters in the 1971 ballet film Tales of Beatrix Potter, and years later he worked with Brian Henson and others on the giant Audrey II in the 1987 musical film version of Little Shop of Horrors. On the West End stage, he took over the role of Mr. Mistoffelees in the musical Cats.
In recent years he has been teaching ballet to gifted children, as part of The Royal Ballet School's Associate Programmes [1]
Sources
Ad blocker interference detected!
Wikia is a free-to-use site that makes money from advertising. We have a modified experience for viewers using ad blockers

Wikia is not accessible if you've made further modifications. Remove the custom ad blocker rule(s) and the page will load as expected.