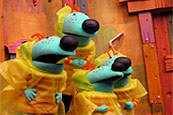 The Marching Band are characters from Jack's Big Music Show. When a cloudburst threatens to disrupt the band's parade, Jack, Mary and Mel decide to keep the march going — indoors — where they think they can stay dry! Neighbor Cathy inspires them to use the natural rhythms of the day and the band continues to make music in an unexpected way.
Ad blocker interference detected!
Wikia is a free-to-use site that makes money from advertising. We have a modified experience for viewers using ad blockers

Wikia is not accessible if you've made further modifications. Remove the custom ad blocker rule(s) and the page will load as expected.