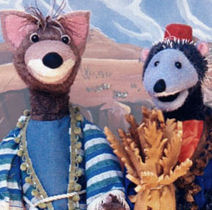 A folk tale from Tunisia about two farmers, Jackal and Hedgehog who must learn to put aside their differences and work together to prepare the land for the next harvest.
The show was created in 1995 when Sean and Patrick Johnson were performing in the San Francisco Bay Area under the company name, The Johnson Brothers Puppets. For the 2001 summer season, and after hundreds of performances, Jackal and Hedgehog was completely overhauled. New puppets and props were created, and a new background was painted. It continues to entertain new audiences, and is Swazzle's oldest puppet show.
Jackal and Hedgehog was written by Sean Johnson and Patrick Johnson, based on an Tunisian folk tale. The puppets were designed and built by Patrick Johnson and Sean Johnson.
External Links
Ad blocker interference detected!
Wikia is a free-to-use site that makes money from advertising. We have a modified experience for viewers using ad blockers

Wikia is not accessible if you've made further modifications. Remove the custom ad blocker rule(s) and the page will load as expected.