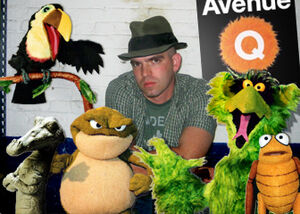 James Wojtal is a puppet designer and builder. During his career he has worked on projects such as Avenue Q, Bear in the Big Blue House, Crank Yankers, Saturday Night Live, Sesame Street (the American and various internationl versions), Mop-a-Top's Shop, Kermit's Swamp Years, Animal Jam, and more.
Building Credits
Bear, Samson, Camilla, Nimnim, Puppy Duck, Ruppy Duck, Aretha, Luncheon Counter Monster, Lola, Goat, Muppet Chickens, Blotch,
External Links
Ad blocker interference detected!
Wikia is a free-to-use site that makes money from advertising. We have a modified experience for viewers using ad blockers

Wikia is not accessible if you've made further modifications. Remove the custom ad blocker rule(s) and the page will load as expected.