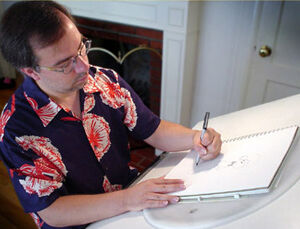 Jeff Pidgeon completed his BFA degree program at the California Institute of the Arts and has worked in the field of animation since 1986. Since then, he has designed characters for Ralph Bakshi's "The New Adventures of Mighty Mouse", Steven Spielberg's "Tiny Toon Adventures", as well as character layout for "The Simpsons". In 1991 Jeff joined Pixar Animation Studios to work on "Toy Story", and has been there ever since, working busily in the Story Department. Pictures of Jeff's work can be found in the books "Toy Story, The Art and Making of the Animated Film," and "The Art of Monsters Inc.," and on display at the Disney Animation Attraction at Disney's California Adventure.
Ad blocker interference detected!
Wikia is a free-to-use site that makes money from advertising. We have a modified experience for viewers using ad blockers

Wikia is not accessible if you've made further modifications. Remove the custom ad blocker rule(s) and the page will load as expected.