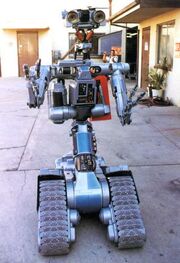 Johnny 5 (originally S-A-I-N-T Prototype Number 5) is the fictional robotic star of the movies Short Circuit and Short Circuit 2 and a TV special called Hot Cars, Cold Facts. He is voiced by Tim Blaney.
Biography
Gallery
Short Circuit
Short Circuit 2
Hot Cars, Cold Facts
Other appearances
Voice Actors
Tim Blaney (movies)
Peter Greenwood (guest appearance on Home only)
Russell Turner (Hot Cars, Cold Facts only)
Greg Berg (guest appearance on Muppet Babies)
Trivia
It took a dozen people to operate Johnny 5 at one time.[1]

05:57

16 Electrifying Facts About The Short Circuit Movies

For close-up shots, Johnny 5 becomes a giant hand-puppet: his arms are manipulated by extended metal rods, similar to that of the Muppets.
At full height, Johnny 5 stands 6 ft. tall.
Among all the celebrities and fictional characters Johnny 5 has impersonated are the following-

John Wayne
George Raft
Larry Fine
Elmer Fudd
Desi Arnaz
Sylvester Stallone
Clint Eastwood
Dr. Ruth Westheimer
External Links
Ad blocker interference detected!
Wikia is a free-to-use site that makes money from advertising. We have a modified experience for viewers using ad blockers

Wikia is not accessible if you've made further modifications. Remove the custom ad blocker rule(s) and the page will load as expected.