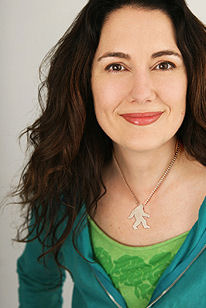 Julianne Buescher, who has become a largely popular Muppeteer, is also the performer who provided the voice of Blecka, a Grouch who appeared in Sesame Street episode 3133.
Julianne is also 1 of the few performers utilizing the Henson Digital Performance System, bringing real-time digital puppets to life. "Dawn the Fairy" travels the globe, introducing this new form of puppetry (now used on Skrumps). The newest HDPS digital puppet on the air is "Coo", a blue cuckoo bird who hosts the Sprout Channel's Morning Block (puppeteered & voiced by Buescher). Henson's latest HDPS project is the PBS series Sid the Science Kid (2009 Emmy Nominee). Buescher puppeteers/voices the characters "May" & "Grandma".
Buescher is also an award-winning actor, singer, voice-over artist, indie-filmmaker, illustrator, & writer. She most recently appeared in "The Middle" on ABC, & "Criminal Minds" on CBS. She received a Drama Logue Award & Ovation Nomination for creating the role of "Inez" in the musical Tight Quarters. Her self-produced short film Resculpting Venus: A Comedy about Breast Cancer is a Best Narrative winner. & the float she designed for the New Years Pasadena Tournament of Roses Parade ("Bathtime Friends"/City of Burbank) won the Founders Trophy.
Buescher sang in Disney's Mulan & on the Dinosuars album "Big Songs". She also voice-matches many stars, looping Angelina Jolie in Mr. and Mrs. Smith, Kate Beckinsale in Click, Joan Cusack in Chicken Little, Halle Berry in Catwoman, Jennifer Lopez in Shall We Dance, Naomie Harris in the Pirates of the Carribean 2 & 3 video games, & many others.
She was asked to join the Broadway cast of Avenue Q but turned it down, choosing to travel with "Puppet Up!" to Edinburgh, Melbourne, Sydney, New Zealand's South Island, Tokyo, Aspen, Vegas, & back to New York (as Stuffed & Unstrung" at the Union Square Theater)!
Muppet Credits
Mr. Willowby's Christmas Tree: Beverly Mouse (puppet/voice), (also cameo as a dancer)
The Muppets' Wizard of Oz: Wizard as Green Lady/Chicken (face/voices)
Sesame Street Seasons 23, 24, & 25: Sherry Netherland (original performer of puppet/voice), Betty Lou's Mommy, Blecka the Grouch, Clucky Clucky Chicken, The Cook singing "Most Important Meal", First Female "Yip Yip Martians, Old Woman Who Lives in a Shoe ("Fairytale Detective") & others
Macy's Day Parade: Grover (puppet only)
Muppet Classic Theater: Yolanda the Rat & others
A New Baby in My House: Queen Quinella (puppet/voice/singing)
Muppets on Wheels, Things That Fly: All Female Characters (puppet/voice/singing)
The Muppet Show Live: Scooter (puppet), Sheep (puppet/voice), Others
Kokomo Music Video: as Winkie Bunny & other characters
Jerry Lewis Telethon: Snowth (puppet/voice), Sal's right hand/legs
Family Feud: Sweetums (eyes)
Telling Stories with Tomie dePaola: Bambalona (puppet/voice), & Weasel in the Animal Band (puppet/voice/singing)
See also
External links
Ad blocker interference detected!
Wikia is a free-to-use site that makes money from advertising. We have a modified experience for viewers using ad blockers

Wikia is not accessible if you've made further modifications. Remove the custom ad blocker rule(s) and the page will load as expected.