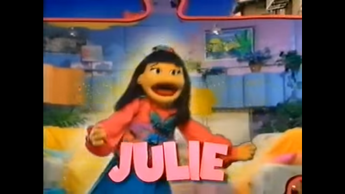 Julie Woo is one of the six protagonists of The Puzzle Place. She is a Chinese-American girl, as shown when she practices Chinese writing ("Practice Makes Perfect"), receives a package with Chinese characters on it and with a Chinese New Year Dragon, brings pork buns to a picnic ("You Say Potato"), and reveals Ching Ming ("The Ballad of Davy Cricket") (however that holiday's name is spelled).
In some episodes, it is revealed that she has a baby sister named Helen.
Julie's puppeteer was Alice Dinnean.
Ad blocker interference detected!
Wikia is a free-to-use site that makes money from advertising. We have a modified experience for viewers using ad blockers

Wikia is not accessible if you've made further modifications. Remove the custom ad blocker rule(s) and the page will load as expected.