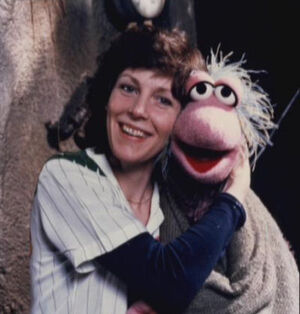 Kathryn Mullen joined the Muppets in 1978, starting with The Muppet Movie[1], and became the third full-time female puppeteer on The Muppet Show (after Eren Ozker and Louise Gold). Prior to becoming a puppeteer, she had aspired to become an actress, and did not join the Puppeteers of America until after a visit to the Muppet Workshop.[2]. Mullen started out with mostly background characters, but advanced to performing major roles on Fraggle Rock, where she played Mokey Fraggle and Cotterpin Doozer, among others.
Mullen later worked on The Wubbulous World of Dr. Seuss, and was one of the creators and performers of Between the Lions. In 2004, she and husband Michael Frith worked with No Strings International to create and perform an educational puppet show for children in Afghanistan.
Puppeteer Credits
The Muppet Show characters: The Duchess, Gaffer, Geri and the Atrics (Knitting Lady), Japanese Tai-Chi, Karate, and Chowder Society Member, Melissa, Mrs. Appleby, Wanda (1979)
Fraggle Rock characters: Cotterpin Doozer, Mokey Fraggle, Crosscut Doozer, Flutebird, Mama Tree Creature (Gorg Bird), Merboo Merggle, Old Gypsy Lady, Rock Hockey Hannah, Wimple Fraggle
Muppet Sing Alongs: Billy Bunny's Animal Songs: Mother Bunny
The Wubbulous World of Dr. Seuss: Ariana, Aunt Myrtle, Babs Balaban, Backup Singer, Civil Servant #3, Daisy's Mom, Disgusted Guest, Down Whozit, Eliza Jane, Finnegan, Gertrude, Hopwood, Junior Kangaroo, Little Cat A, Max, the Grinch's Dog (in "The Guest"), Mayor Stovepipe, Molly Livingood, Mom Tidbiddle, Money Whozit, Morton the Elephant Bird, Mrs. Otissia Buttons, Onlooker #1, Pink-Tufted Sneel, Princess Mindy, Queen Myrtle, Queen Regina of Ka-Larry, The Sandwich, Singing Classmate in Play, Squirrel, The Teacher, Tubby Tarbaloot, Verma
Non-Muppet credits
Cite error: <ref> tags exist, but no <references/> tag was found
Ad blocker interference detected!
Wikia is a free-to-use site that makes money from advertising. We have a modified experience for viewers using ad blockers

Wikia is not accessible if you've made further modifications. Remove the custom ad blocker rule(s) and the page will load as expected.