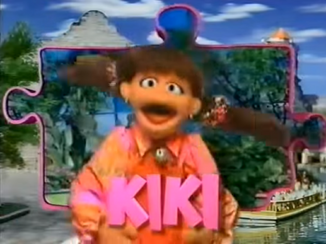 Kiki Flores is one of the six protagonists of The Puzzle Place. She is a Mexican American girl, as she attends a chili cookout (and wins first prize) ("Here's to the Winners"), brings fajitas to a picnic ("You Say Potato"), reveals El Día de Los Muertos ("The Ballad of Davy Cricket"), makes papel pícado ("That's Weird"), talks about Las Posadas ("Deck the Halls"), and has spoken Spanish before she spoke English ("Accentuate the Positive").
According to the episode "It's Mine", she is the older sister to a younger brother and younger sisters.
Kiki was played by Carmen Osbahr, the puppeteer for Rosita in Sesame Street.