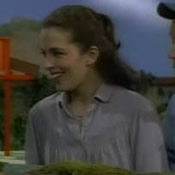 Lady Betty Kay Aberlin
, niece of King Friday XIII (as her mother is his sister) and Queen Sara and the cousin of Prince Tuesday, is a caring friend to the puppet characters and neighbors in the Neighborhood of Make-Believe. She is sensitive to the needs and feelings of her friends and knows how helpful it is to talk about things when the puppet characters are upset or concerned. She also enjoys celebrating with them when they're happy and proud.
Ad blocker interference detected!
Wikia is a free-to-use site that makes money from advertising. We have a modified experience for viewers using ad blockers

Wikia is not accessible if you've made further modifications. Remove the custom ad blocker rule(s) and the page will load as expected.