Ad blocker interference detected!
Wikia is a free-to-use site that makes money from advertising. We have a modified experience for viewers using ad blockers

Wikia is not accessible if you've made further modifications. Remove the custom ad blocker rule(s) and the page will load as expected.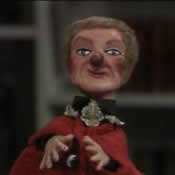 Lady Elaine Fairchilde
 is the curator of the Museum-Go-Round, a revolving building containing collections of everything from A - Z. This mischief-making impish woman is always getting into one thing or another, but that's often because she worries that she's not very lovable and needs attention. As an outspoken, opinionated character, she is generally the only one in Make-Believe who stands up to the
King
whenever he has made an unreasonable demand. And she often brings a lot of humor to Make-Believe.