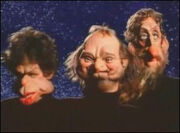 Land of Confusion is a song by the rock band Genisis. A music video based on the song was created featuring puppets by the TV show, Spitting Image. The cover of the single also featured images of Genisus as puppet characters.
Ad blocker interference detected!
Wikia is a free-to-use site that makes money from advertising. We have a modified experience for viewers using ad blockers

Wikia is not accessible if you've made further modifications. Remove the custom ad blocker rule(s) and the page will load as expected.