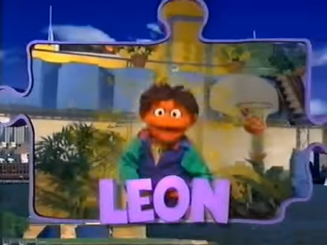 Leon MacNeal is one of the six protagonists of The Puzzle Place. He is an African-American boy, as shown when he prefers to play an African thumb piano called a kalimba ("Mad Music Magic"), plays with some kind of African drum ("Different Drummer"), and celebrates Kwanzaa ("Deck the Halls"). He lives with his unnamed brother and parents in New York, but he speaks of having a paternal grandmother named Edna ("Big Boys Don't Cry") and an uncle Ray ("We Three Kings").
He is portrayed by Noel MacNeal, and he shares the same last name and his first name is spelled in the opposite direction.
Ad blocker interference detected!
Wikia is a free-to-use site that makes money from advertising. We have a modified experience for viewers using ad blockers

Wikia is not accessible if you've made further modifications. Remove the custom ad blocker rule(s) and the page will load as expected.