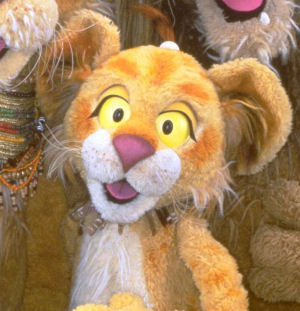 Leona is a character from Between the Lions.
Biography
from pbskids.org
| | | |
| --- | --- | --- |
| " | Leona is frequently hunting and stalking and pouncing—on her brother and on unsuspecting samples of text that she loves to bring back and show off to her family. Leona is not at all afraid of the unknown; this four-year-old cub welcomes any chance to experiment or change things around "just to see what happens." Leona has also inherited her dad's talent for writing. Her literacy skills aren't really developed enough for her to get the words down without help, but she grabs every possible opportunity to dictate new stories—or revisions of familiar old ones—to her parents, to Click the Mouse, and—most of all—to her brother. | " |
Ad blocker interference detected!
Wikia is a free-to-use site that makes money from advertising. We have a modified experience for viewers using ad blockers

Wikia is not accessible if you've made further modifications. Remove the custom ad blocker rule(s) and the page will load as expected.