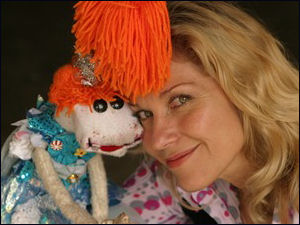 Leslie Carrara-Rudolph began her Muppeteer career on Muppets Tonight, where she played the Pamela Anderson spoof, Spamela Hamderson in the sketch Bay of Pigswatch. She started performing on Sesame Street beginning in season 37. Her main Sesame Street character is Abby Cadabby. She is also Prairie Dawn's mom in Sesame Beginnings. She also voiced the green Grouch in the Grouch spoof of Spamalot, called Scramalot.
She puppeteers outside of Sesame Street & the Muppets as well. Her candy-obsessed character, Lolly, performs with her in several clubs & events in New York & LA, as well as working in children outreach programs. Leslie played Miss Poppy, the human kiddie-show star, in the satirical play Pigeon-Holed, written by Sesame writer Annie Evans.
Leslie's husband, Paul Rudolph, served as music coordinator on Muppets Tonight.
She is sometimes credited as Leslie Carrera.
Muppeteer Credits
See also
Ad blocker interference detected!
Wikia is a free-to-use site that makes money from advertising. We have a modified experience for viewers using ad blockers

Wikia is not accessible if you've made further modifications. Remove the custom ad blocker rule(s) and the page will load as expected.