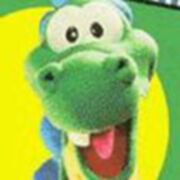 Magellan the Dragon was a friendly green dragon character from the children's television series, Eureeka's Castle. He was performed by Noel MacNeal throughout the show. Magellan is a bit clumsy, one toothed, and a tail with a mind of its own. Magellan also makes sneezes that are so big, they cause the whole castle to shake.
He has a pet named Cooey. Despite their differences, Magellan is good friends with Batly the Bat. Magellan also considers Eureeka as a sort of "big sister" figure whenever somethings bothering him.
Ad blocker interference detected!
Wikia is a free-to-use site that makes money from advertising. We have a modified experience for viewers using ad blockers

Wikia is not accessible if you've made further modifications. Remove the custom ad blocker rule(s) and the page will load as expected.