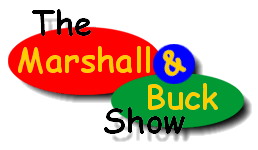 The Marshall and Buck Show was the internet's first episodic video series created entirely with puppetry. Episodes were filmed sporadically between 1997 and 2000. The first episode was posted online March 20, 2000.
The show revolved around a dim-witted moose named Marshall and his mute beaver sidekick, Buck, who in each episode engage in different activities such as cooking, acting, etc. that go horribly awry. The series also introduced several supporting characters, including Marshall and Buck's cow Betsy and Marshall's butler Jeeves.
Puppet characters
External Links
Wok With Marshall - The first episode of The Marshall and Buck Show.
Bear Town - The web series Marshall and Buck were originally adapted from.
Ad blocker interference detected!
Wikia is a free-to-use site that makes money from advertising. We have a modified experience for viewers using ad blockers

Wikia is not accessible if you've made further modifications. Remove the custom ad blocker rule(s) and the page will load as expected.