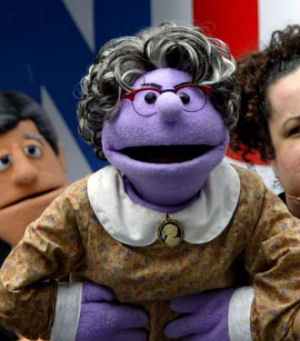 Mrs. Lividia Thistletwat is a character from the Tony Award-winning Broadway musical Avenue Q. She is Kate Monster's elderly boss at the school at which Kate is a kindergarten teaching asssitant. She was originally performed by Jennifer Barnhart, who stayed with the production throughout its entire run on Broadway.
The Mrs. Thistletwat performer also performs the female Bad Idea Bear, assists the live hand puppets Nicky and Trekkie, and puppeteers Lucy when that character appears onstage at the same time as Kate Monster. The character is renamed Mrs. Lividia Butz is Avenue Q: School Edition.
Ad blocker interference detected!
Wikia is a free-to-use site that makes money from advertising. We have a modified experience for viewers using ad blockers

Wikia is not accessible if you've made further modifications. Remove the custom ad blocker rule(s) and the page will load as expected.