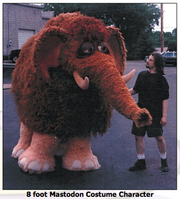 PlaySoup is a puppet company that specializes in character design and building, writing, and performing. The company was founded by Dave and June Privett and is located in Parker, Colorado.
Character design
PlaySoup has designed characters for the Baby Einstein video series by the Walt Disney Companies, the BabyFaith video series by Integrity Publishing, Universal Studios/Hollywood, and many others.
Writing
PlaySoup offers writing and consulting services. Some of their clients have been the Tennessee Committee For The Prevention of Child Abuse, WSMV-Channel 4 Nashville, TN, CharismaLife/Strang Communications, Empowering Kids, Saddleback All-Stars Children's Ministry, and One Way Street, Inc.
Performing
In addition to puppet performance for various video or television projects, the company has developed and perform several school programs, church and holiday programs.
Ad blocker interference detected!
Wikia is a free-to-use site that makes money from advertising. We have a modified experience for viewers using ad blockers

Wikia is not accessible if you've made further modifications. Remove the custom ad blocker rule(s) and the page will load as expected.