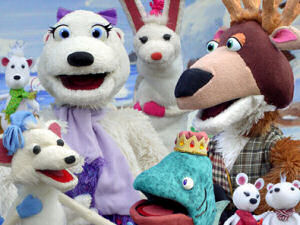 The Prince of the Sea teaches Polly Polar Bear and Reggie, her greedy Reindeer friend that it is better to appreciate what you have instead of always wanting more.
This puppet show made it's debut in December of 2004. Anita Coulter, Patrick Johnson, and Sean Johnson wrote the script. The puppet were designed by Patrick Johnson and built by Sean and Patrick Johnson.
External Links
Ad blocker interference detected!
Wikia is a free-to-use site that makes money from advertising. We have a modified experience for viewers using ad blockers

Wikia is not accessible if you've made further modifications. Remove the custom ad blocker rule(s) and the page will load as expected.