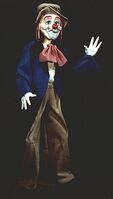 Presto Puppets is headed by Robin Lawrence and Nigel Lawton, after working together on shows for the DaSilva Puppet Company, started a small cabaret speciality act and developed the organisation into a major touring company based in Buxton, Derbyshire, England.
When Presto Puppet Theatre was formed in 1973, the Company was seen presenting their Puppet Cabaret in night clubs and village halls which, although difficult work, provided a firm foundation on which their reputation was to build.
The Company's open stage marionette adaptation of The Snow Queen saw a turning point in 1975. Schools and Arts Associations were now becoming interested in the educational value of their puppet performances in addition to their merits as unusual entertainment. Subsequent rod puppet and marionette productions of Aladdin, Follies on Strings, Aesop's Fables, Puppet Parade, Baba Yaga - the tale of a Sorcerer's Magic Cloak, Pinocchio, an entirely new version of the Snow Queen, Rumpestiltskin, and in 1995 the Firebird, which incorporates the Bunraku style of puppetry, have resulted in enormous growth in terms of business and widening respect from audiences and promoters both at home and abroad.
Presto Puppet Theatre is now one of the busiest and most well-respected teams of puppeteers in Europe. Almost a quarter of a million people each year see their live shows, and millions have enjoyed items of the Puppet Cabaret on television. BBC Radio 4 has featured the Company's educational work and Granada Television has taken a particular interest in reporting activities and filming stages in the making of Pinocchio. A number of Presto Puppets were used in the television network production of The Magic Toyshop which is now available on video. Pinocchio was recently featured on Border Television's Arts Programme 7th Heaven.
In 1990 an award was presented to Presto Puppet Theatre by Richard Luce, then Minister for the Arts; for work on Pinocchio. This award was made under the Government's Association for Business Sponsorship of the Arts scheme, and was the first one awarded to a puppet company.
Presto Puppet Theatre has worked in venues ranging from small educational establishments (many of which have booked shows regularly for over ten years) to some of Britain's major Arts venues including the Royal Exchange Theatre, Manchester; Blackpool Grand; Buxton Opera House; His Majesty's Theatre, Aberdeen; Plymouth Theatre Royal; Nottingham Playhouse; Earl's Court and Olympia Exhibition Centres.
Ad blocker interference detected!
Wikia is a free-to-use site that makes money from advertising. We have a modified experience for viewers using ad blockers

Wikia is not accessible if you've made further modifications. Remove the custom ad blocker rule(s) and the page will load as expected.