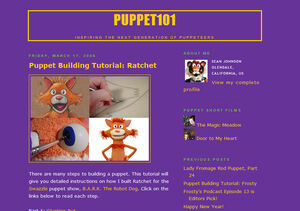 Puppeteer and Puppet Builder Sean Johnson shares tutorials, interviews, methods of making puppets along with techniques that he has learned over the years. Tutorials range from Frosty the Snowman, Ratchet and The Peas.
External links
Ad blocker interference detected!
Wikia is a free-to-use site that makes money from advertising. We have a modified experience for viewers using ad blockers

Wikia is not accessible if you've made further modifications. Remove the custom ad blocker rule(s) and the page will load as expected.