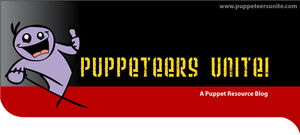 Puppeteers Unite is a Puppet resource blog created and maintained by Tom Stewart from Hamilton, Ontario Canada. It features articles about puppet building, puppeteers, and puppetry in general. Puppeteers Unite was established in 2005, and was the recent sponsor for Project Puppet's puppet building contest.
External Links
Ad blocker interference detected!
Wikia is a free-to-use site that makes money from advertising. We have a modified experience for viewers using ad blockers

Wikia is not accessible if you've made further modifications. Remove the custom ad blocker rule(s) and the page will load as expected.