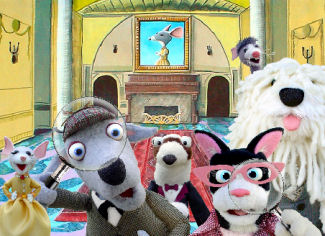 Lady Fromage, the richest mouse in England, discovers that her prized Gold Fish is missing. She calls on Rex & Boots, Super Sleuths to solve the crime. Is bungling greyhound Rex barking up the wrong tree? Is shady Investigator Sherman Sheep Dog presenting questionable evidence and false leads? Can the curious and clever cat Boots follow the clues and solve the mystery.
Rex & Boots Super Sleuths made it's debut in the summer 2006. It was built to coincide with the California Library Association's reading program theme "Paws, Claws, Scales, and Tales". The show was designed by Sean Johnson and Patrick Johnson and built by Sean Johnson and Patrick Johnson. Rex & Boots Super Sleuths was written by Anita Coulter, Patrick Johnson, and Sean Johnson.
Characters
External Links
Ad blocker interference detected!
Wikia is a free-to-use site that makes money from advertising. We have a modified experience for viewers using ad blockers

Wikia is not accessible if you've made further modifications. Remove the custom ad blocker rule(s) and the page will load as expected.