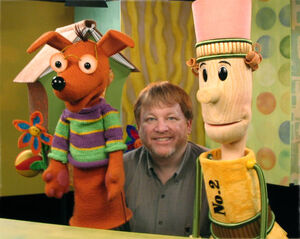 Roger Mara is a puppeteer that created Snapdragon Puppets.
Biography
from snapdragonpuppets.com
Roger Mara, originally from New York, holds a degree from Columbia University and has over thirty years experience in his craft. Recent stage experiences include the Ballard Salmon Festival, the Magnolia Festival, The Day of Puppetry at Pike Place Market, as well as thousands of performances in California. He has also worked extensively as a puppet manipulator in television productions and commercials. In 1990 Roger received puppetry's most prestigious award; the UNIMA-USA Citation of Excellence in the Art of Puppetry for his script and Direction of Peter and the Wolf for the Dorothy Chandler Music Center on Tour program in Los Angeles. Roger Mara passed away January 15, 2007 from cancer. He is survived by his 3 sisters Mary, Martha and Susan.
Ad blocker interference detected!
Wikia is a free-to-use site that makes money from advertising. We have a modified experience for viewers using ad blockers

Wikia is not accessible if you've made further modifications. Remove the custom ad blocker rule(s) and the page will load as expected.