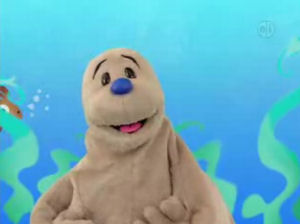 SeeMore the Safety Seal is a lighthearted seal who created the Playhouse as a fun, comfortable, protected space for kids to learn about safety as they play. He is the Oldest member of the Group and he's an Adult. While it is SeeMore's responsibility to help everyone be safe, he is also endlessly amusing and entertaining, always ready with a joke or a suggestion for an activity the group can engage in.
Before SeeMore's Playhouse, SeeMore starred in a direct-to-video series produced by Safety4Kids called "A.B.C.'s of Safety." His look was significantly different, he wore an orange vest, and he proclaimed himself as the "King of Safety"
Ad blocker interference detected!
Wikia is a free-to-use site that makes money from advertising. We have a modified experience for viewers using ad blockers

Wikia is not accessible if you've made further modifications. Remove the custom ad blocker rule(s) and the page will load as expected.