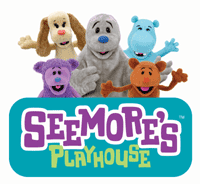 | | | |
| --- | --- | --- |
| " | SeeMore's Playhouse, a national award-winning first-of-its-kind American preschool television series which engages and entertains children while utilizing a unique blend of loveable characters, animation, live action and infectious sing-along music to teach the basics of Safety, Health and Wellness. SeeMore's Playhouse, stars "SeeMore the Safety Seal" and airs on PBS Stations nationwide. — SeeMore's Playhouse.com | " |
SeeMore's Playhoue, A Puppet show themed at topics such as safety, forgiveness, sharing etc. One of the main characters is Seemore the Safety Seal. The place is set in a bright musical back-yard playhouse, Seemore gathers kids from his neighborhood and while they play and learn about safety. The main characters from SeeMore's Playhouse are puppets.
Characters
Epsiode List

Season 1

Season 2

10- Marching Orders- The Playhouse gang sees a parade go by and decides to make one of their own. The Stoplight Brothers help them learn the right way to cross the street. SeeMore was the Safety Leader, Bazil Played his Snare Drum, Penny played her Kazoo, Harry Played his Radio, Lottie waved her baton and Shades Pulled his Birthday Cake Themed Float.



External Links
This article is a stub. Please help Puppet Wikia by expanding it.