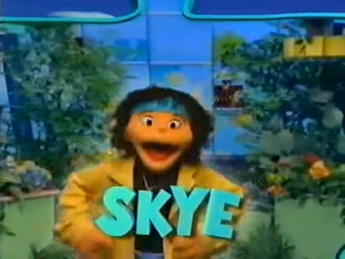 Skye Nakaiye is one of the six protagonists of The Puzzle Place. He is an Apache boy, as shown when he brings corn for fire roasting and prefers to picnic in the mountains to be in nature ("You Say Potato"), brings a water drum ("Different Drummer"), brings fry bread ("Bread and Matzoh"), tells Native American tales ("Rip Van Wrinkle"), brings acorn stew ("Bully for Jody"), and has an important pollen pouch ("Finders Keepers").
His best known relative is his grandfather, but he has a father ("Here's to the Winners"), a mother, an Uncle Victorio ("It's Mine"), an aunt, brothers ("Here's to the Winners"), and a baby sister ("Big Boys Don't Cry").
Skye was played by Peter Linz.
Ad blocker interference detected!
Wikia is a free-to-use site that makes money from advertising. We have a modified experience for viewers using ad blockers

Wikia is not accessible if you've made further modifications. Remove the custom ad blocker rule(s) and the page will load as expected.