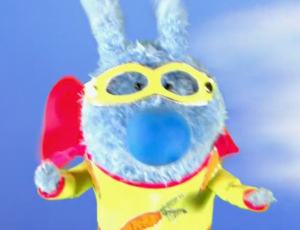 Super Bunny is the local superhero character from the children's television show, Bunnytown. He looks like any other character except for his carrot emblem shirt, red cape, and glasses.
His first appearance was the second episode of the show, Bunny Funnies. In that appearance he was performed by one of the creators of the show, David Rudman. The Little Bad Bunny tries to do something about carrots somehow like using magic or a machine so then Super Bunny helps out the bunnies.
Ad blocker interference detected!
Wikia is a free-to-use site that makes money from advertising. We have a modified experience for viewers using ad blockers

Wikia is not accessible if you've made further modifications. Remove the custom ad blocker rule(s) and the page will load as expected.