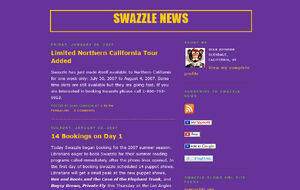 Swazzle News, run by Sean Johnson is a blog that gives up to date information on new Swazzle products, bookings and new shows. The official opening of the website was January 2006. Swazzle News also has an rss feed which can be added to a personalized homepage.
External Links
Ad blocker interference detected!
Wikia is a free-to-use site that makes money from advertising. We have a modified experience for viewers using ad blockers

Wikia is not accessible if you've made further modifications. Remove the custom ad blocker rule(s) and the page will load as expected.