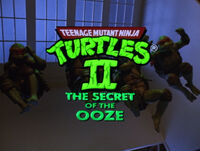 Teenage Mutant Ninja Turtles II: The Secret Of The Ooze is the second film of the 1990s animatronic series of Teenage Mutant Ninja Turtles. The story line of the film is a canister of toxic ooze falls into the hands of Master Shredder. A new character from the film is the pizza delivery boy, Keno. The Jim Henson Company built the animatronic turtles. The film was released in 1991 by New Line Productions.
Ad blocker interference detected!
Wikia is a free-to-use site that makes money from advertising. We have a modified experience for viewers using ad blockers

Wikia is not accessible if you've made further modifications. Remove the custom ad blocker rule(s) and the page will load as expected.