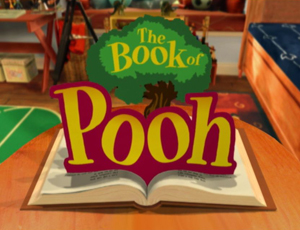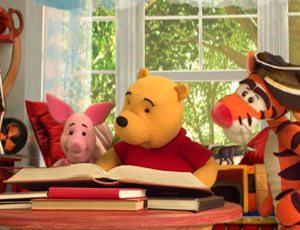 The Book of Pooh is a puppet show aimed at preschoolers that airs on the Disney Channel. In the United Kingdom, the series airs daily. It is the third Disney franchise based on A. A. Milne's work; the two other were Welcome to Pooh Corner and The New Adventures of Winnie the Pooh, those shows each aired in the 1980s.
The puppets on the show come to life with the technique known as Shadowmation, which was created by Mitchell Kriegman, who also created the show. The episodes are filmed on a green screen with the puppeteers dressed up in green suits. Computer animated backgrounds are later added.
Cast
Voice Cast
Puppeteers
Creation
In an interview Mitchell Kriegman stated:
"Our goal actually was to do the most quintessential version of Pooh for Disney as possible. The way I approached it was to look at the history of Pooh as a whole, including the Milne version, obviously, which is the original creation of Pooh, and by the way, there are stories about how Milne's original inspiration was watching his son play with his dolls as if they were puppets. So it was in keeping with what we ended up doing.

There's the whole history of the characters and the styles and the look, the E.H. Shephard drawings to begin with. Then there are the Disney films that were made by Disney early on, and then there's the animation series. Our goal was to embrace the whole thing as one giant version of Pooh and then see what was most quintessential throughout. What things could you generalize as, you know, absolutely Pooh, and to try to bring them together in the richest way.[1]"
References
External links
Ad blocker interference detected!
Wikia is a free-to-use site that makes money from advertising. We have a modified experience for viewers using ad blockers

Wikia is not accessible if you've made further modifications. Remove the custom ad blocker rule(s) and the page will load as expected.